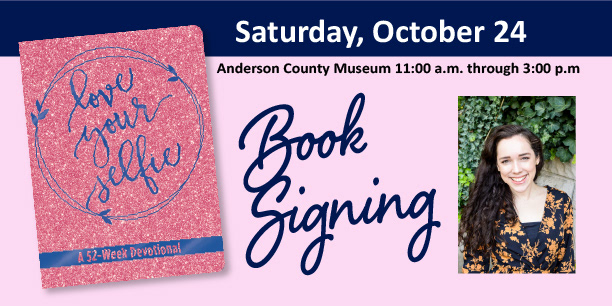 Saturday, October 24 | 11:00 -3:00 | Book Signing: Tessa Emily Hall
Meet the author at the Anderson County Museum. Join us for a book signing with author Tessa Emily Hall.
Drop in any time from 11:00 a.m. - 3:00 p.m. Visitors must sign our COVID Waiver to attend. ACM observes COVID safety guidelines and requires masks and social distancing.
About the book: God loves the real you-without filters, followers, or fabulous backdrops! This glittery devotional helps you find your inner sparkle as you learn to love yourself from the inside out.
In this 52-week devotional, you will be guided through a journey of embracing the unique way you were created. Author Tessa Emily Hall shares her personal struggles of dealing with insecurity and self-shame as a teen, then she invites you to reflect on the weekly message through journal prompts and social media challenges. You will be taken on a journey to understand what Scripture says about your identity, discover how you can tap into your God-given potential, and learn to love who you are inside.
Planning to attend? Masks are required. Please sign our waiver before you participate.
Download this form, print it, and bring it with you to the museum when you arrive for your event. All visitors, volunteers, and staff at the Anderson County Museum are required to wear masks.